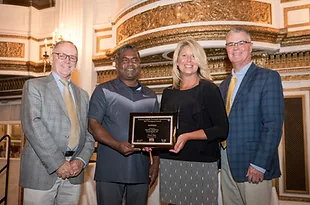 2017 NAPA Ecological Award: Superior Asphalt, Inc.
"NAPA members strive for excellence beyond constructing high-quality asphalt pavements. The five categories of the Operational Excellence Awards — Asphalt Operations Safety Innovation, Community Involvement, Ecological, Outstanding Brochure, and Outstanding Website — recognize a company's commitment to operations that make them good contractors, good industry ambassadors, and good neighbors," said NAPA Craig Parker.
Superior Asphalt
in the News
Wood TV
Superior Asphalt Fixes Veteran's Botched Driveway after Fake Paving Company Scam Family out of $9,000
Paving Pro Magazine
Superior Asphalt's Communication Fills the Cracks
Lansing Buisness
The Business of the Year: Superior Asphalt, Inc.