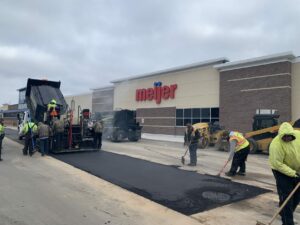 The answer is yes.  Asphalt repairs can be made in the winter.
Protect Your Investment
It's important to pay close attention to cracks, potholes, and drainage issues. Preventative maintenance is the key to protecting your asphalt investment.
Asphalt pavements are damaged by fluctuating temperatures, snow plow operations, and standing water during winter. Cracks that form on the surface layer allow water to seep into the sub-base and damage the structural integrity of the asphalt. Potholes eventually form, presenting dangers to pedestrians and motorists.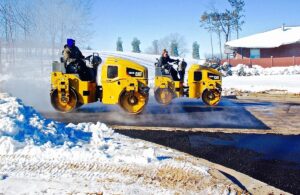 Be Proactive And Schedule Asphalt Pavement Repairs
Property owners and commercial facility managers should inspect their asphalt surfaces regularly, especially during the winter. When issues appear, seek advice from a professional and schedule service as soon as possible.
There Is No Excuse For Potholes
Contact Superior Asphalt, Inc. We understand the subtleties of West Michigan weather and how it can affect local asphalt pavements. Our estimators are available all year to help access your parking lot, roadways, and driveways. Winter Maintenance services include pothole repair, patching, utility cut and drain repair. At Superior, we manufacture a specialized, recycled winter hot mix asphalt material that is used by our crew members, local road commissions, MDOT, and utility companies as a durable solution for large patching and utility cut repairs. We also supply UPM cold patch material for a "one and done" pothole repair.
For more information on repairing your asphalt in the winter or to schedule a no-obligation consultation, please contact the experts at https://superiorasphalt.com/