Maintaining a commercial parking lot is a full-time job. One of the biggest challenges is preventing and repairing potholes. At Superior Asphalt, we are often asked, what causes a pothole to form and how can they be prevented.
Potholes form for various reasons; however, the main cause is usually water seeping through untreated cracks and into the subgrade. (see diagram above)
HOW POTHOLES FORM
Potholes begin to form after snow or rain seeps through untreated cracks and into the soil below the surface layer of the asphalt.
When water freezes and ice forms below the surface (subgrade layer) the ground expands and pushes the pavement up.
As temperatures rise, the ground returns to a normal level but the pavement often remains raised. This creates a gap between the pavement and the ground below it.
When vehicles drive over the pavement, the weight of the traffic causes the pavement surface to crack and fall into the hollow space, creating a pothole.
Routine maintenance of commercial parking lots is critical to avoid potholes and increase their overall longevity. We suggest you contact the professionals at Superior Asphalt, Inc. every year to access your lot and perform advised routine maintenance.
HOW TO PREVENT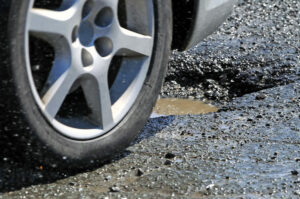 POTHOLES
Stay on top of maintenance
Address and repair cracks right away
Invest in Sealcoating
Keep pavement clean, free of oil and debris
Most importantly, manage drainage and fix any issues immediately. 
SUPERIOR ASPHALT, INC. CAN HELP YOU WITH POTHOLES AND MORE
Whether you're in need of a new commercial parking lot or simply struggling with potholes, contact the professionals at Superior Asphalt, Inc. We can access the damage and come up with budget-conscious solutions that will lead to long-lasting pavements free of potholes. Superior Asphalt is always available for emergency repairs too, even in the winter.
www.superiorasphalt.com