Put your trust in Superior Asphalt, Inc. for all your Commercial, Municipal, or Residential paving projects.
Superior Asphalt, Inc. has worked hard for over 35 years to become West Michigan's trusted source for asphalt paving, asphalt maintenance services, and quality asphalt material.
We specialize in commercial and industrial parking lots, municipal roadway construction, residential paving, asphalt repair, asphalt milling, asphalt resurfacing, sealcoating, crack filling, drain repair, line striping, and more.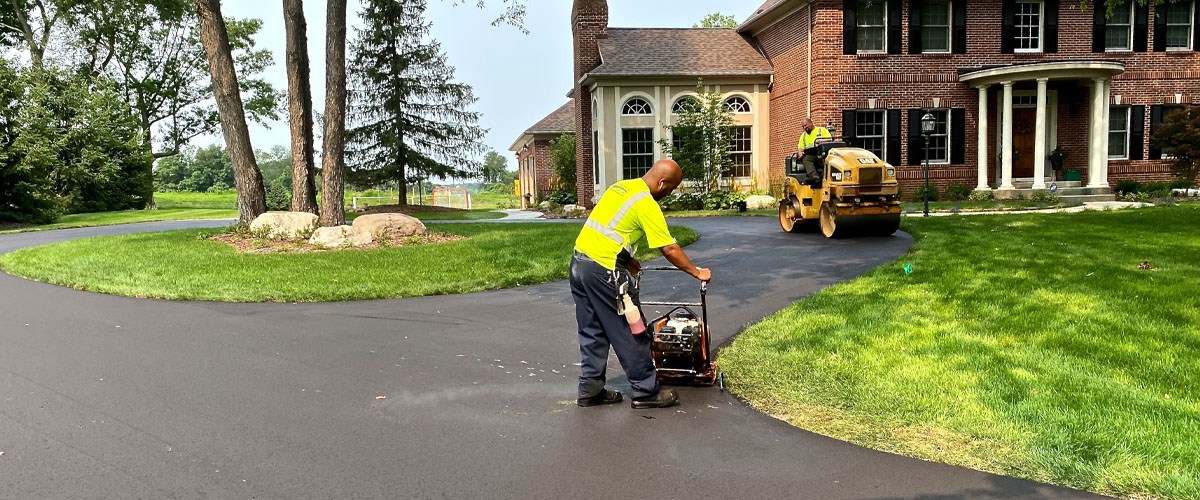 Superior Asphalt, Inc. Customer Testimonials
Over the years, Superior Asphalt has had the privilege to form many lasting relationships with our customers. This is what "Service Beyond The Surface" means to all of us at Superior Asphalt.
"Meijer Gardens enlisted the services of Superior Asphalt, Inc of Grand Rapids to mill and topcoat all of the areas that our guests first experience as they arrive and park …Through it all, we were most pleased with Superior Asphalt's initiative in recognizing our special needs and delivering a quality product most professionally and expeditiously with minimal disruption. I am sure that future projects will include Superior Asphalt, Inc."
Kenneth D. Wagner
Fredrick Meijer Gardens
"Superior Asphalt, Inc. has been very responsive to our schedules, delivering superior quality and service. Their attention to detail is refreshing, and their safety performance has been superb."
Mr. Mike McDonald
Amway Corporation
"Superior Asphalt not only operated within the proposed budget guidelines but completed the project before the projected completion date. I would recommend them for all of your facility needs, designs, and/or alterations."
Tom Therot
Spectrum Health Grand Rapids
"Superior Asphalt's winter HMA has allowed the Kent County Road Commission to make permanent pavement repairs year-round. Running 100 tons of HMA through our paver on a day in the middle of the winter was possible with Superior Asphalt's willingness to schedule production to meet our emergency pavement repair needs. Winter HMA provides one more tool in the toolbox KCRC finds beneficial during months when traditional HMA is not available."
​Jerry Byrne
Kent County Road Commission
"We were told that your work is done as if you were doing your own personal driveway-and you went above and beyond the call of duty-such meticulousness and care was shown. My husband Ron said it best; you guys handled the job as if the United States president was showing up the next day."
Ron & Cherie Foss
Homeowners
"I want to commend your team for completing the blacktop at Siliconature. The site looks great. The owner was pleased with the quality work and the look of the parking lot as well. Job well done. We appreciate you sticking to the timeline. It was a pleasure to work with you on this project. We look forward to the opportunity of teaming up with you on future projects."
Miguel Delao
Elzinga&Volkers, Inc.
"My husband and I purchased a home in Comstock Park, MI, in early June. The driveway was never paved or asphalted and was in desperate need. We contacted Superior Asphalt and another highly recommended company in the area for quotes. Although the quote was a bit higher from Superior Asphalt, we chose them to complete the job as their quote allowed for a thicker base, enabling the driveway to last a much longer time. They were booked until September, but it was well worth the wait. Over time we expanded the areas we wanted to be paved, and the cost became more and more reasonable as we worked with them (hint-if you think you might want more area asphalted later, it's cheaper to do it all while they have the equipment and crew there). They were able to cut costs since we had an area that needed fill, and they didn't have to haul away the ground that was removed and graded. The grading was done in August by a company they contracted. That company saved us money and quickly created a ditch for my husband to install drainage under where the new asphalt would be. They also leveled the topsoil we ordered for the new front lawn in a matter of minutes - it would have taken us days to do ourselves. This has, by far, been one of the most positive experiences in making our home much more enjoyable and appealing. Thank you, Terry. It was a pleasure working with you."
Annette Miller
Homeowner​
"I would like to thank everyone at Superior Asphalt, from the owner of the company, Jeff Kresnak, for developing such a great organization and every employee associated with the company for the excellent experience we had in working with you. You are all a part of something very special as your professionalism and customer service make you very unique in today's workforce. Next time I need any paving done, I only have to make one call."
Michael Gutierrez
Apartments Azteca Properties L.L.C
"Great service and quality work every time. Knowledgeable estimator and skilled crews. Dependable service to all 19 locations every time. "
Kathy Sessions
Goodwill Industries
"They repaved and marked our parking lot up to code. They were pleasant to work with, and communication before, during, and after the re-pavement process was great. Over the years, we have worked with Superior on several parking lot repairs, and we are very please with their work. "
Mary Statan
Commercial Customer
"Year after year, we have chosen Superior Asphalt for its multitude of services, honest bidding, and superior customer service. I highly recommend Superior Asphalt if you are looking for a job well done. Even if they aren't the "cheapest" in town, their crews are efficient and get the job done right the first time around."
Michele Van Hooren
Municipal Customer
"I have worked with Superior Asphalt for more than 20 years at the Associations that our company manages. They are the very best in all areas of the service they provide, right down to our Rep, Steve Rich! Great workmanship, customer service, and fabulous final product. As a Property Manager, you are only as good as the contractors that perform services, and Superior makes me shine. Grateful for this company professionally and personally!!! "​
Deb Stone
Realico
"As a director of facilities for a large school district, I used Superior for the last 12+ years for total replacements and repairs. The quotes were completive, and the work was excellent. For quotes, they came out and checked every site. Plotted the repairs on my maps and detailed what repairs they felt were needed. From there, I decided what to do. No pressure. The service guys would call and coordinate with my schedules and projects. Very professional and timely. I would highly recommend Superior Asphalt for repairs, tear-outs, or new lots."
Kelly Rademacher
School Customer
"I work for a small Christian school in Grand Rapids and have been using Superior Asphalt for over 10 years. They have been great to work with and are always willing to work around our school's busy schedule. With a tight budget, the estimator is always super helpful and knowledgeable about what repairs would best use my money. I can always count on a fair price as well. The work quality is always top-notch, and I would recommend them to anyone for paving or repair needs."
Rusty Brewster
School Customer
"I have been working with Superior Asphalt for 7 years now, and they have done several jobs for me, always outstanding work and always done on or ahead of schedule. They have worked around our tough parking situation and made sure they could accommodate all of our needs. They have continued to keep great open communication lines and check in on all of the work they have performed."​
Troy Terwilleger
Founders Brewing Co.
"Superior Asphalt has been top-notch to work with for the past 20+ years! They have helped me with several projects over the years including Caledonia Christian Reformed Church, Dutton FireDepartment, K&S Plumbing, and my own driveway. Give them a call and trust that they'll give you a quality product at a fair price."
Brian Koster
K&S Plumbing Company, Inc.
"Reach The Forgotten Ministries needed to have a parking lot repaved in the summer of 2021. Superior came highly recommended and they lived up to their reputation. It was a technically difficult job with lots of angles and curbs. They did great. They were willing to work with us and communicated very well. I would recommend them to any business owners or churches I know."
Rev. Nathan Deward
Reach The Forgotten Jail Ministries
"From start to finish, this company was great to work with. Our estimator was very knowledgeable, professional, and easy to get along with. He kept us informed on what was going on as well. The crew itself was professional and delivered quality work. Fast too. I had absolutely zero issues from start to finish. I would highly recommend going with Superior. We have used other companies in the past and no one even compares to how well this went. Thanks for the great work. Superior will be our go-to for any and all future work."
Jim Daldos
Meadows Crossing Apartments
I just wanted to take a minute to thank everyone at Superior Asphalt for doing such a great job repaving the intersection of 84th St and Byron Center Ave. The crew was done by 4:00 pm which was very good. We have received several comments on how nice and smooth it is. We are always glad to have Superior Asphalt doing work in Byron Township.
Amos
Byron Township Supervisor