Winter is the best time to prepare your asphalt maintenance budget. Whether you are thinking about replacing or repairing your residential driveway or if you manage a large-scale commercial parking lot or distribution center, preparing a budget is the first step to successfully managing the longevity of your asphalt pavement. Superior Asphalt, Inc. is here to help. One of our knowledgeable estimators will schedule a time to walk your property and perform an extensive inspection of your asphalt pavement. They will make a note of the following: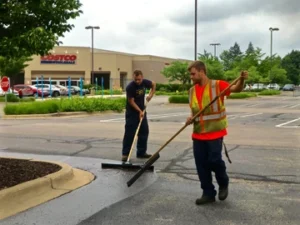 Pavement cracking
Potholes
Heaving
Rutting
Faded line striping or other markings-ADA compliance
Oxidization
Drain and catch basin issues
After the assessment is complete, your estimator will help you make informed decisions regarding your existing pavement's lifespan. They will help you prioritize repairs and create a budget-friendly solution that works for you. We will ensure that your money is spent wisely and that work will be scheduled and performed in optimal time. It is important to stay ahead of asphalt surface failures and perform routine maintenance yearly to prevent costly premature deterioration.
What Superior Asphalt, Inc. can offer you?
Full asphalt surface inspection, detailed assessment, and comprehensive maintenance plan.
Complete project management
Asphalt maintenance services: patching, pothole repair, crackfilling, sealcoating, drain repairs, overlays, and more.
Maintenance services and materials are available all year, including emergency structural repairs, because some repairs cannot wait for spring.
Advanced Paving Services, expertly trained crews, and technologically advanced equipment.
Quality asphalt material produced at our locally owned manufacturing facility.
"Service Beyond The Surface" It's not just our company motto. It's a promise. We operate as a Superior Asphalt team, Inc. We pride ourselves on our integrity, forming relationships with our valued customers, communication, and precision quality. Our work is never complete until our customers are 100% satisfied.
Preventative maintenance is key to extending your asphalt surface's life and retains the value of your investment. Why wait for Spring to start thinking about how to manage repairs? Winter is the prime time to formulate a plan and create a budget based on expert advice. Superior Asphalt, Inc. is here to help. Our estimators are available all year long to provide you with a maintenance plan and to help you attend to unexpected pavement repairs that may not be able to wait until warmer weather.
Contact Superior Asphalt, Inc. today.